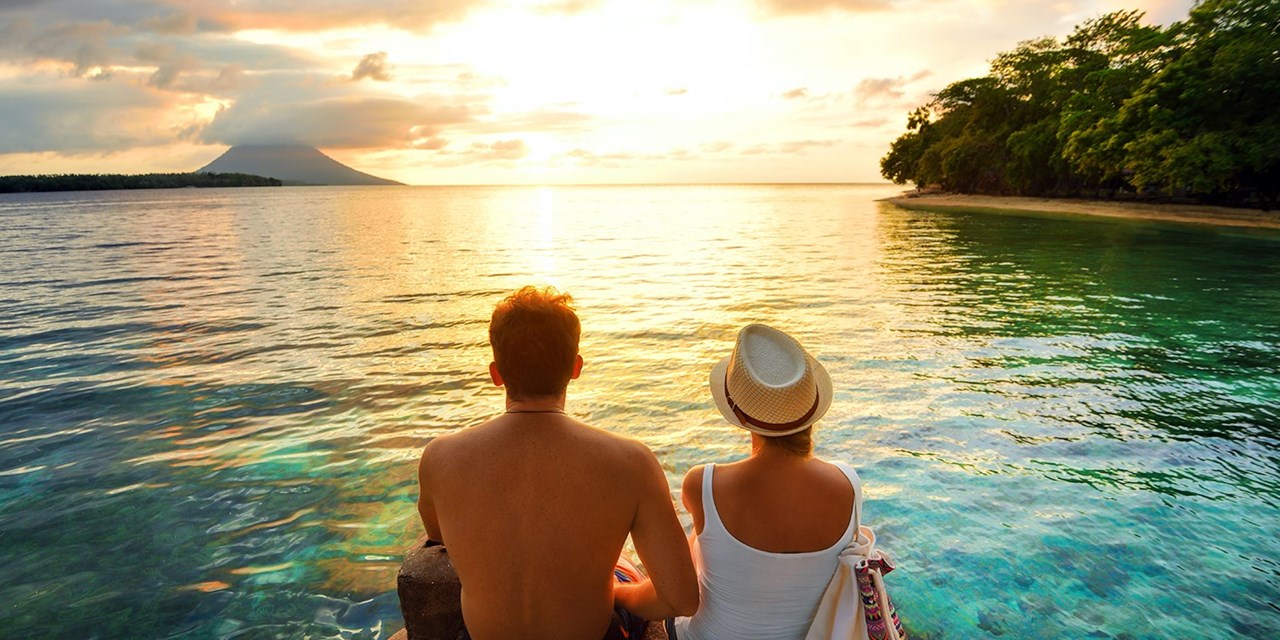 A beach holiday is the perfect excuse to escape the daily grind. And whether you're in the mood for a stroll on a windswept beach leading up to an ancient castle, relaxing on a white sandy slice of paradise in the middle of the Indian Ocean or taking a breather after catching a few early morning waves, there are beaches for just about everyone.
If you're not sure where you want to head, we've rounded up some of the most beautiful beaches in the world for a bit of inspiration.
1. Boracay White Beach, Philippines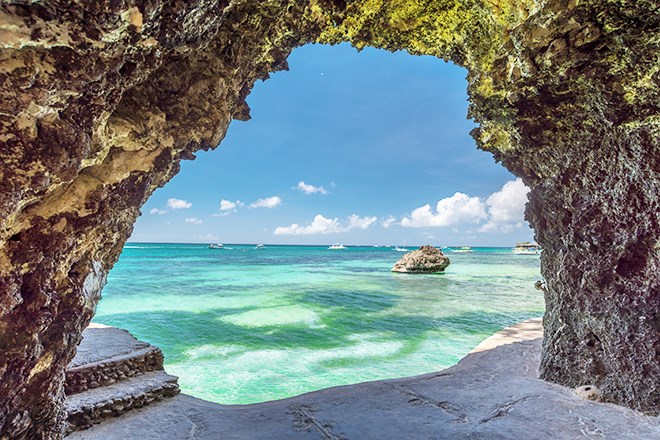 White Beach is perfect for those who love swimming, thanks to its flat, calm waters. This 3 mile-long stretch is considered to be one of the most popular beaches in Boracay and offers everything from beach activities and restaurants to nightlife and hotels. Accommodation is broken up into three sections along the beach, Stations 1, 2 and 3, and range from luxury, mid-level and budget respectively.
Getting there: Boracay Island is accessible by plane from Manila. Flights take roughly one hour, connecting in Caticlan (followed by a 10-minute ferry ride) or Kalibo (followed by a two-hour bus ride).
2. Blue Lagoon, Ölüdeniz, Turkey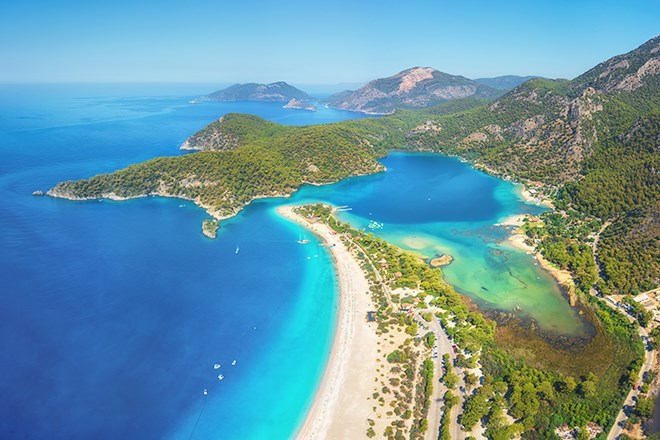 The town name Oludeniz translates to "dead sea" (a result of its calm waters) and is home to the Blue Lagoon, which offers white sands and warm, turquoise waters. Visitors can expect a more relaxed atmosphere (you won't find a boisterous nightlife here), and a number of activities to do on and around the lagoon, including paragliding and boating.
Getting there: Ölüdeniz is a 20-minute mini-bus ride from Fethiye. Flights from Istanbul to Fethiye take roughly an hour and a half.
3. Na Pali Coast, Kauai, Hawaii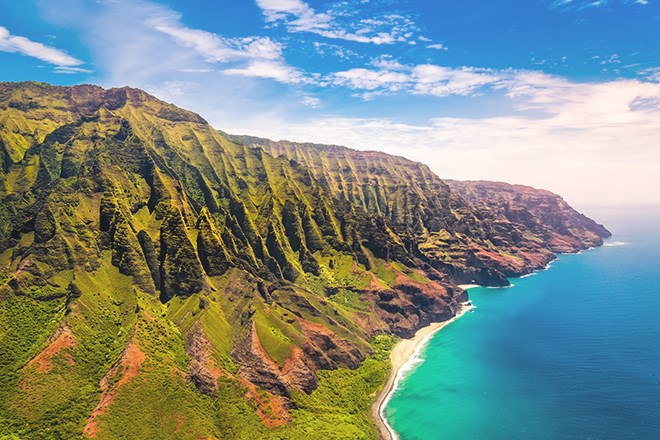 Located on the northwest side of Kauai Island, Na Pali Coast is best seen either via boat or canoe. Seasoned trekkers can also explore the area via the Kalalau Trail, a demanding 11-mile (22-mile round trip) hike that runs from Ke'e Beach to Kalalau Beach.
4. Meeru Island, North Atoll, Maldives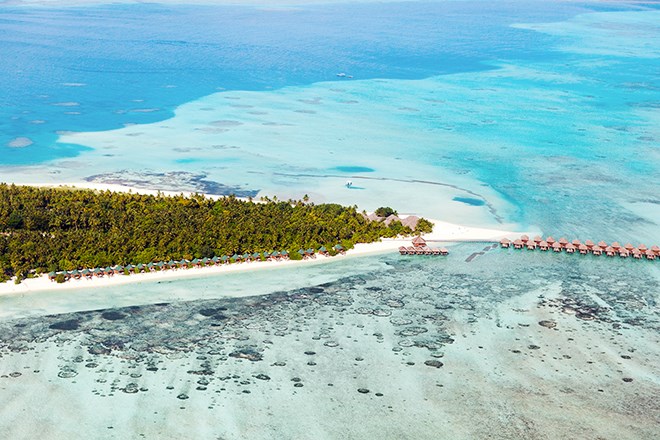 Travelers looking for a slice of paradise will want to book a visit to Meeru Island, the only resort on Meerufenfushi Island, North Male' Atoll. This 1148 foot-long white sandy beach is ideal for sunbathing or snorkeling.
Getting there: Meeru Island is a 55-minute boat ride from Velana International Airport in Male.
5. Railay Beach, Krabi, Thailand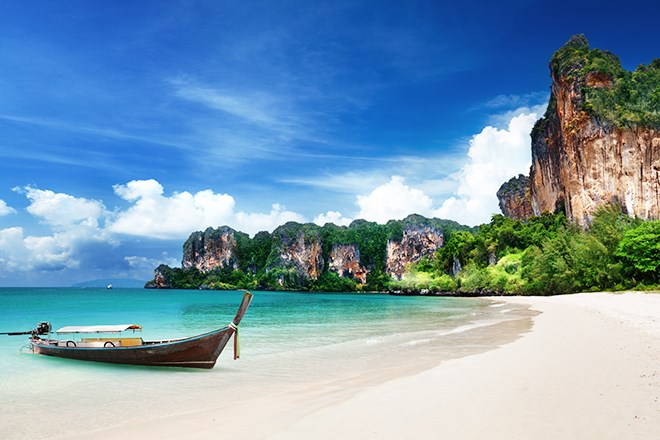 Railay Beach is located on the coast the Railay peninsula, situated south of the cities of Krabi and Ao Nang. The beach features dramatic limestone formations that make this the ultimate destination for rock climbing enthusiasts.
Getting there: Railay Beach is only accessible via boat and is a quick 15-minute ride from Ao Nang.
6. Whitehaven Beach, Queensland, Australia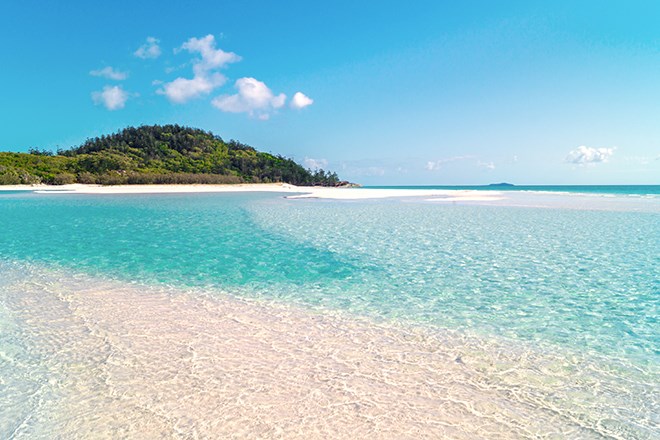 Whitehaven Beach is 4 mile, eco-friendly stretch of coastline, located along Whitsunday Island. The beach features blue and green waters, a number of covers, lagoons and inlets, and sands consisting of mostly white silica, which gives it that spectacularly bright white color. Its remote location means it's rarely ever crowded and makes it an ideal spot to indulge in a bit of "you" time, be it sunbathing or cracking open that book you've been meaning to read.
Getting there: Whitehaven Beach is a quick 35-minute trip on a high-speed catamaran from Hamilton Island. Hamilton Island is accessible via plane (from Sydney, Melbourne, Brisbane and Cairns), ferry or Sunlander train, which runs four times a week from Brisbane and Cairns.
7. Anse Source D'Argent, La Digue Island, Seychelles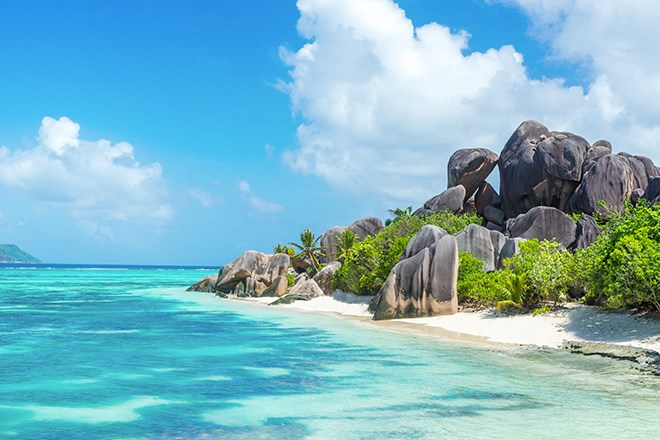 For photography aficionados, Anse Source D'Argent is a must. The beach, located along La Digue island, provides prime photo ops thanks to its pure white sands and other-worldly looking boulders.
Getting there: Speed ferries run between Mahe and Praslin, with onward connections to La Digue. This typically takes between 50 and 60 minutes. There's also a 15-minute ferry that runs between Praslin and La Digue.
8. Bai Sao, Phu Quoc, Vietnam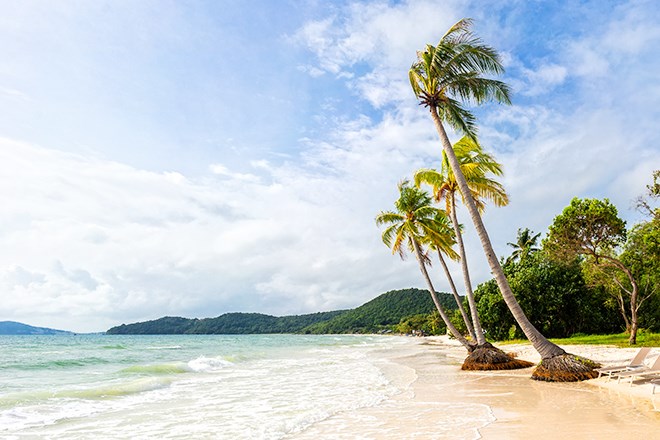 When you think of idyllic beaches, chances are Bai Sao's landscape will come to mind: white sands, crystal-clear waters, low-hanging palm trees and beach bars. It's an ideal location for anyone looking to escape the stress of daily life for a while.
Getting there: Bai Sao is located 16 miles from Duong Dong Phu Quoc's largest town. Visitors can reach Phu Quoc from Ho Chi Minh city via a 40-minute plane ride.
9. Bingin Beach, Bali, Indonesia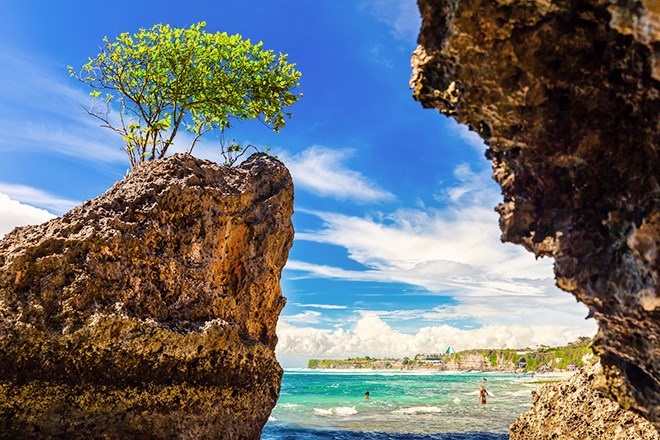 Bingin Beach offers some of the most demanding surfing conditions in Bali (expect up to 8-foot swells), making it the quintessential spot for surfers. If you prefer to stay on dry land, the beach is at its best during low tide, when the landscape is ideal for sunbathing.